Watertown CT Toys for Tots Toy Drive 2022
Toys for Tots Toy Drive Dec 18 2022 at Sun Set Grille – Watertown CT
Join us Dec 18th 2022 for a Toys for Tots Toy Drive from noon to 4pm!
This year, we are hosting a Toy Drive at Sun Set Grill in Watertown CT!
Public is welcome, and please share! We ask that you bring at least one toy, but the more toys you bring, the more raffle tickets you will get!
We are also looking for local Vendors who would like to be part of this. you can contribute with your time by helping with the event, a donation to Toys for Tots, or a gift you can contribute to the raffle such as a gift card to your business!
Please contact us if you would like to attend, or contribute in any way!
https://www.facebook.com/eventmusicpros/events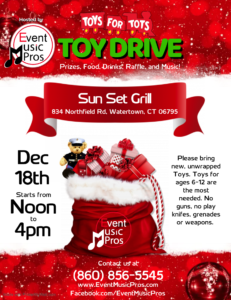 Current Sponsors: